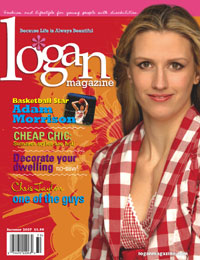 Logan Olson 2005
magazine editor
inducted 2007
Logan Olson was just 16 years old when she suffered a heart attack in October of 2001. She fell into a coma that left her with a brain injury. After spending seven months at Sacred Heart Medical Center and St. Luke's Rehabilitation Institute in Spokane, Logan was able to go home. She could feed herself and stand, but still had a long way to go.
Once a typical teenager with a boyfriend, driver's license, and closets full of clothes, Logan now struggled to fasten buttons and tie her shoes. She longed to wear makeup again, but found the bottles and tubes impossible to open and hold properly with uncooperative fingers.
She pored through fashion magazines for alternatives, but came up empty-handed. And that's when the idea struck: The world needs a magazine for young women with disabilities; a magazine featuring girls like her, with tips on easy-to-handle beauty products and clothes. She envisioned a place where they could share advice on meeting challenges and living well. Logan wanted to encourage teens to celebrate fashion instead of giving up on it and to enjoy attention-getting styles and colors. "Do your makeup still. Do your hair still. Keep living, keep living, keep living!" she advised.
Logan founded Logan Magazine. Its mission is to inspire, encourage, and inform young women with disabilities on how to lead a productive, purposeful, and pleasurable lifestyle. Logan's goal is to motivate young women to live, work, play, dream big and look great while experiencing all life has to offer.